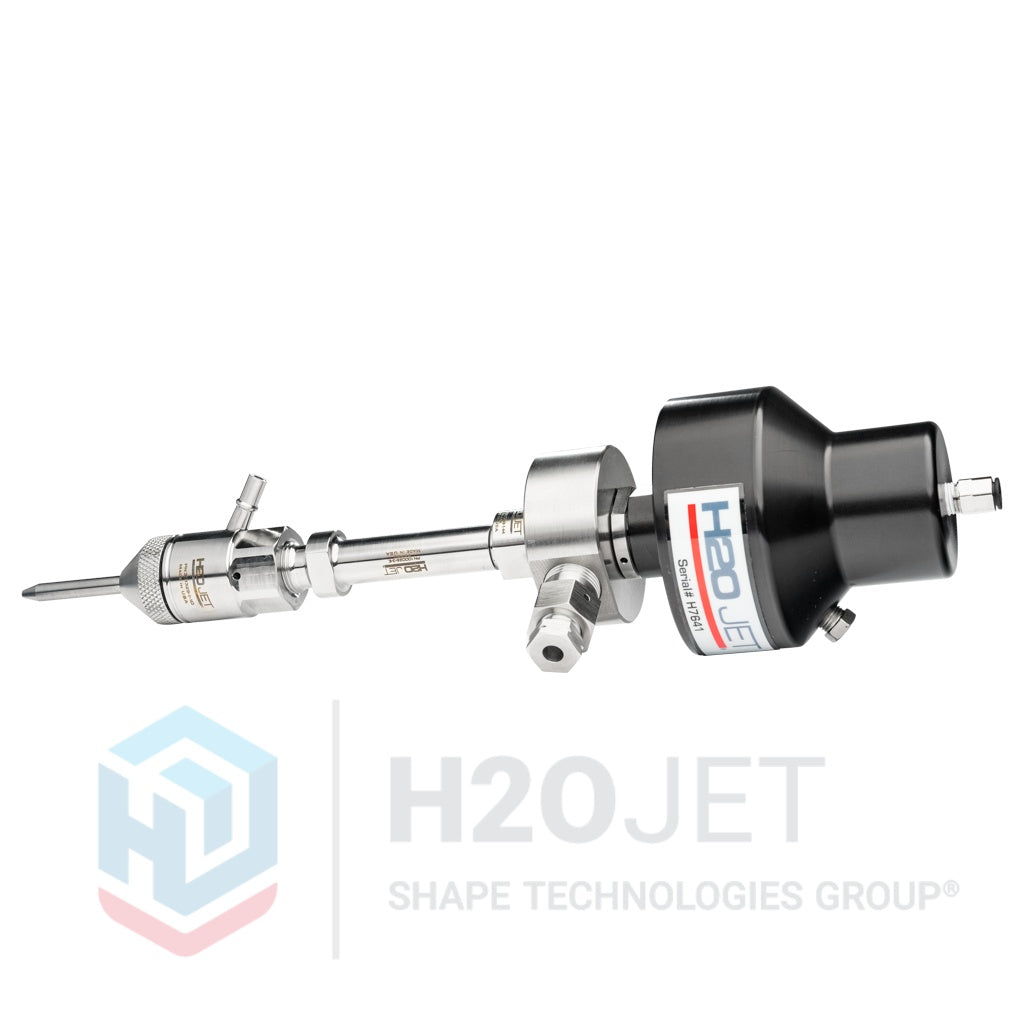 Cutting Head Assembly - HiPerf Valve, Round Mount, P3 Nozzle Bdy, IDE, Abr Nozzle
Complete Cutting Head Assembly with Universal Mounting Block, Mixing Tube, and Integrated Diamond IDE Mixing Chamber (the easiest-to-use mixing chamber for abrasive waterjet cutting). Complete head assembly, ready to work.  Please specify orifice and mixing tube sizes. 
Includes:
- Abrasive Nozzle 1000008-xx-3 with  3"OAL x 0.281"OD (specify id or 0.040" will ship)
- Hi Velocity Nozzle Body 4.33" #100026-3
- Universal, Round, Bottom-Mount Collar (for either the 2- or 3-bolt patterns) #100040-4
- Hi-Performance Valve Body 100048-1 (uses repair kit #302001-1)
- NC Hi-Performance Air Actuator with 1/8" Air Hose Fitting #301006-1.  (Use 80psi to operate.)  Has a filtered breather vent for long, maintenance-free, performance. 
- IDE - Integrated Diamond Eductor - built-in, precision-aligned Diamond above carbide mixing chamber.  A complete unit. Specify orifice size or will arrive with a 0.014" diamond.  (For more information, see brochure in Resource section or contact us.)
SSF version also includes Short Stop Filter Assembly 301026-3:
- Filter element 400096-1 with 0.006" filtering
- Fittings - gland nut 1/4" ; collar 1/4"
- Adapter Insert to hold filter element 1/4"Fx3/8"M #100192-1
- Adapter Body 1/4"Fx3/8"M #100157-2